Interview with The North Face Athlete Jordan McDougal
– – – – –
Virginia was my home for 20 years before I made my way to Texas in 2011. While I was living in Virginia I attended Christopher Newport University and was a member of both the Cross Country and Track Teams. During my years of competition, I had the privilege of running against many great runners across all of the NCAA Divisions including Jordan McDougal from Liberty University. It's amazing to see how someone I once ran against has gone from a traditional cross country runner to a top tier ultra runner.
I managed to catch up with Jordan while he had some down time in Lima, Peru. Yes, I said Peru. This is where he will be running his first ultra of 2014 in The North Face Endurance Challenge Peru. He will be taking on the 80k (50 Miler) this Saturday against some great international competitors. I asked Jordan if I could give him a brief interview to see how his training has been going and to learn his mindset going into this race. He graciously accepted my request and what follows are my questions and his responses!
JB:
How far are you into your training progression for this year? What type of mileage are you up to? Will this be your last event until
The North Face Endurance Challenge – New York
in May or do you have other races planned in between?
JM: While I'm not too far into my training progression this year, I am still very fit at the moment. I am coming off of a couple hundred mile weeks including a very solid 30 mile run about a week and a half ago that has me feeling very confident. I have several races between now and The North Face Endurance Challenge – New York that I am training for as well, although this is my only other ultra until that race. I will be competing in the La Sportiva Mountain Cup as well, which is a 10 race trail series of sub marathon races that kicks off in mid February. This was the main focus of my training before I decided to put the Peru race on my calendar so my speed is pretty good at the moment.
JB: When did you fly to Peru? I know you were dealing with snow and cold conditions in Virginia but the race is Peru is mostly desert and will be much warmer then anything you've experienced this year so far. What have you been doing in the days leading up to the race to acclimate to the conditions?
JM: I flew into Lima late on Monday. It was 20 degrees in Virginia when I left and 80 degrees when I landed so there is definitely a major adjustment. I spent the last two weeks over dressing which helped me mimic the weather, but there is no way to truly simulate these conditions. I think being here five days before the race will help me a lot as well as the fact that the race starts at 2 AM while it is still cool outside.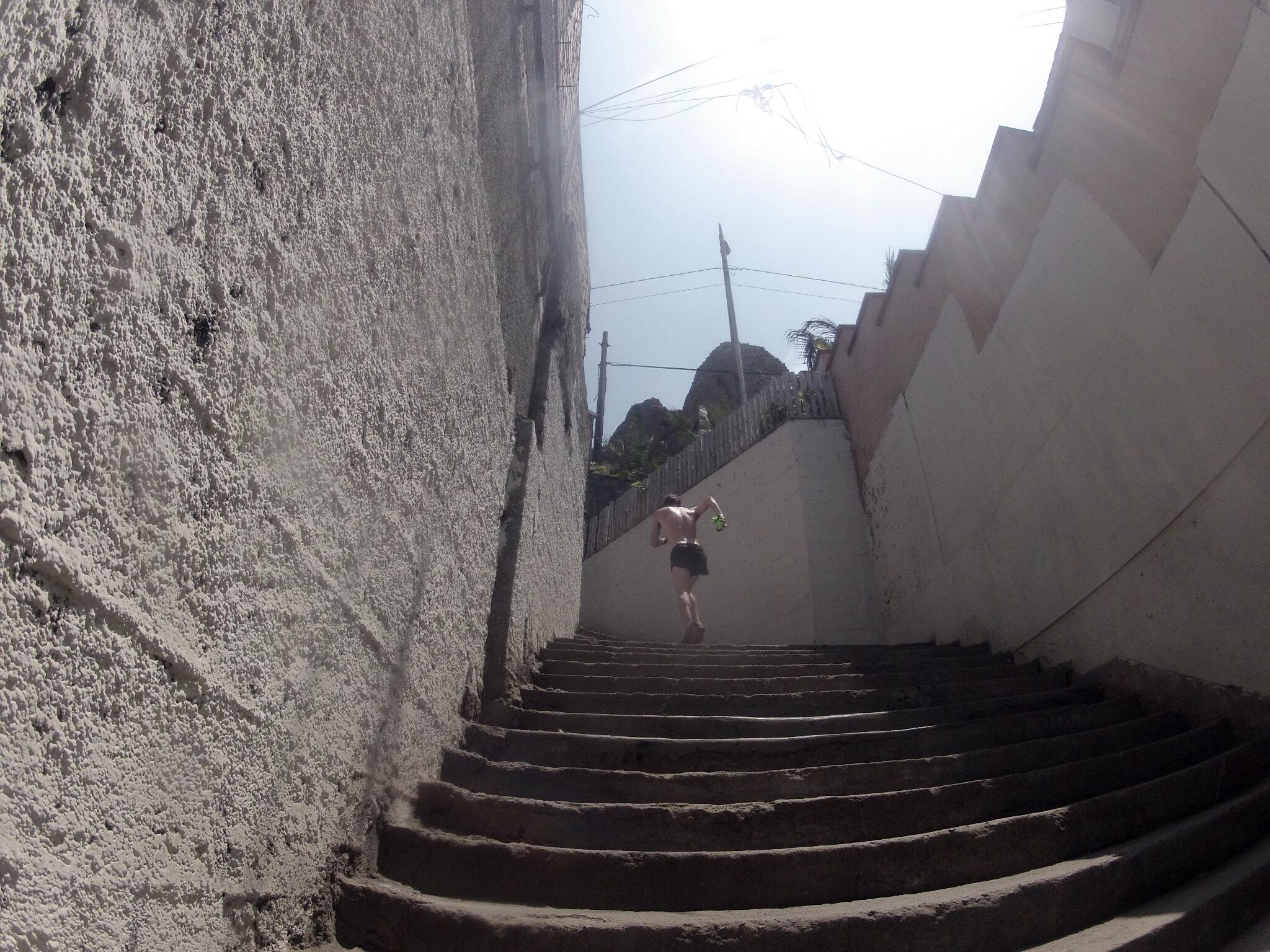 Jordan getting acclimated to the weather in the 90 degree Lima heat
JB: Do you have a sense for what will be at the aid stations and how many there are/how they will be set-up compared to the races you have run in the United States? How will this change your hydration/nutrition strategy?
JM: The aid stations are pretty much every 4 to 6 miles apart. It is very similar to how they are spread out in the US races. The aid stations don't have quite the variety that the US races have and to be sure that I don't run into cramping I will make sure to carry my own salt and a few safety gels at all times.
JB: Have you run or seen most of the course so far? Is it technical and single track or what are the conditions like as well as the elevation profile? How would you rate the overall difficulty?
JM: I have seen much of the course via video and our group will be taking our first steps out on the course tomorrow. Until that point I will not have actually set foot on the course. It looks fast as far as the footing goes, rocky at some points, but not super technical. The elevation profile shows about 10,000 feet of climbing so it should be similar to The North Face Endurance Challenge – California in some regard. I think the biggest challenge will be the openness of the course. I've been told that there is literally only one tree on the course. Every race has its own challenges that make it tough in some regards. That said, this should be the easiest of the three non-US Endurance Challenge races I have run thus far.
JB: Diane Van Deren, another ultra trail runner that is supported by The North Face will also be competing in this race. Are any other The North Face team members running? Any other US athletes? You said you think you have a shot at wining. How would you rate your chances?
JM: No other US athletes that I know about are running in the race. There are several good South American runners here and a few from here in Peru. There's also Marcelo Sinoca from Brazil who won the 2013 Jungle Marathon which is a very competitive event. Manuela Vilaseca and Fernande Maciel from Brazil will also be racing. Going into every race my goal is to win. In this race, I think my chances are very high and if everything goes according to plan I should be breaking the tape first. That being said 50 miles is a long way for nothing to go wrong so it should be interesting!
JB: Is there any other information that you'd like to share with us?
JM: I would like to add that it is awesome to be here and that Endurance Sports are really taking off in South America, people love it down here. Also, the events are
very smoothly run and anyone in the US looking for a destination race in 2014 should definitely check out the Endurance Challenge events in South America. They are popping up all over the place. The food is great, the people are awesome, and you get 50 miles of the best countryside in the races given area!
Closing Questions:
1) Have you ever participated in any races outside of the US? Which one did you run and what was your experience?
2) Are you planning on running an international race at some point? Which race and distance would you choose to compete in?
3) What do you think Jordan's chances are this weekend?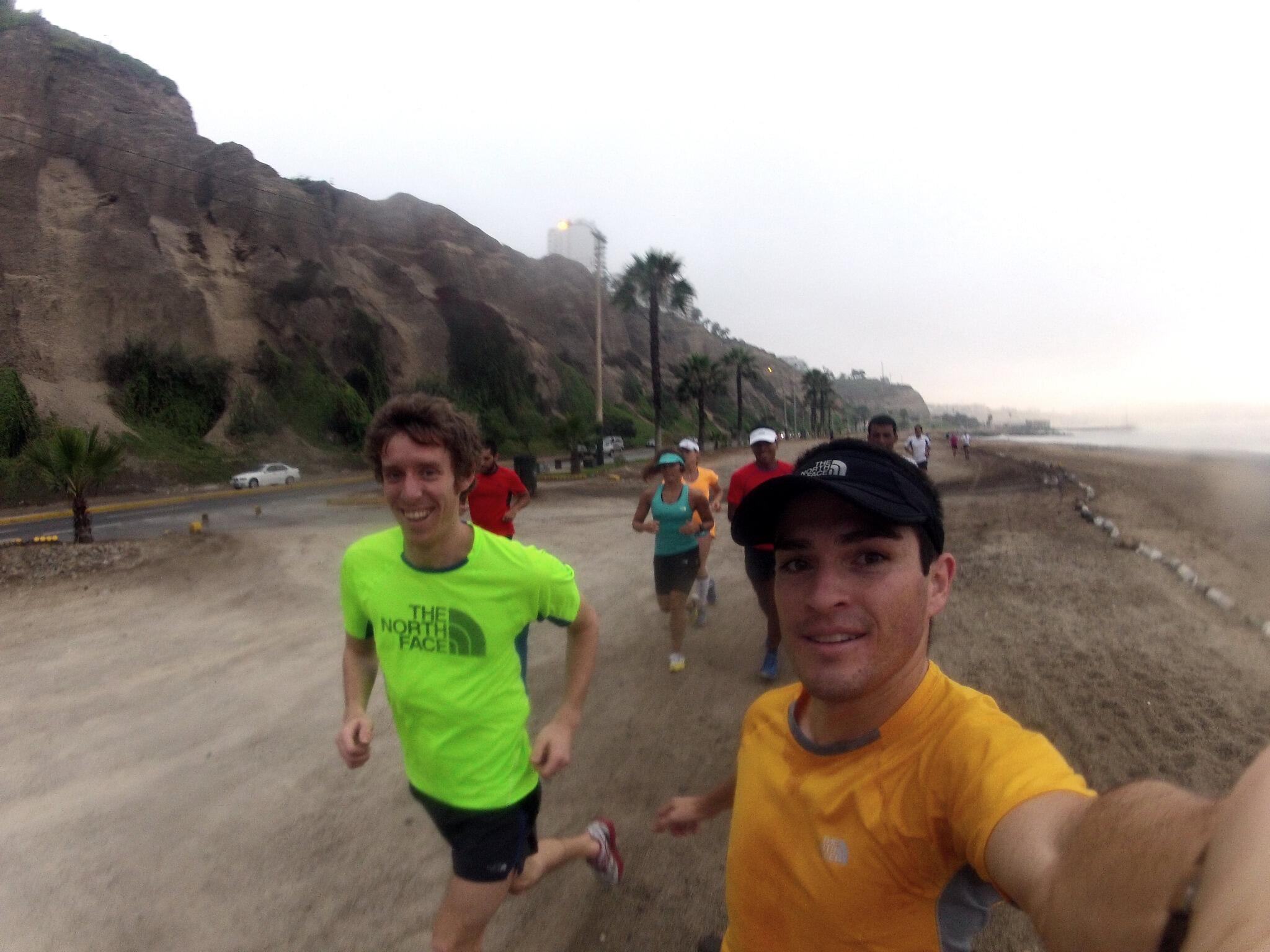 Jordan running with The North Face crew in Peru